Videorecording – MAD 2022:
https://donau-uni.zoom.us/rec/share/iFCNRoZ0STm11AiDPJqPrnC-uahqDpilVgRVtlIS_OUNedB_1vD0Jf3Xe5IthuxY.wbnPHnfL0zLKUEMs
Code: 39964613
——————————————————–
THANK YOU: This was our last call:
The Media Arts and Design Conference enters its 4th edition, this time we take a wide-ranging look on how the impact of emergent technologies in the field of media / arts and design changed or evolved during the time of crises. And how this all had an impact on our personal life experiences.
The conference will take place online via Zoom on December 16th 2022 (GMT/UTC + 1).
Meeting-ID: 676 8280 9510
Code: 729506
The 2022 edition is hosted by Alexander Pfeiffer, Natalie Denk and Michaela Wawra (University for Continuing Education Krems); Scot Osterweil (The MIT Education Arcade); Stephen Bezzina , Alexiei Dingli (University of Malta), Michael Wagner, Nick Jushchyshyn (Drexel University), Simone Kriglstein (Masaryk University & AIT Austrian Institute of Technology), Klaus Neundlinger (Institute CE) and André Thomas (Texas A & M University).

Editors of the anthology will be Alexander Pfeiffer, Natalie Denk and Michaela Wawra (University for Continuing Education Krems), Alesha Serada (University of Vaasa) and Nanditha Krishna (Amrita Vishwa Vidyapeetham, Amritapuri, India)
The MAD | 2022 is free of charge for presenters, book-contributors and audience thanks to the center of applied game studies.
SCHEDULE: (GMT/UTC +1 Vienna/Austria)
TIME
SPEAKER
TITLE
MAD 2022
10:00 – 10:15
L O G I N
10:15
–
10:20
WELCOME AND INTRODUCTION
10:20
–
10:29
Alexander Pfeiffer
Warm up talk:
Artificial intelligence in art and culture. Have we reached the point of no return in late 2022?
10:30
–
10:55
Olga Kolokytha
When life gives you media, make opera: how technology and traditional arts genres can benefit from each other.
11:00
–
11:25
Hana Pokojná
How the pandemic helped the spread of advancements in bio-medical education.
11:30
–
11:55
Klaus Neundlinger & Simone Rack
How to design relational working cultures in hybrid environments.
& Introducing Summer School 2023 "Variations on How to Play"
12:00
–
12:25
Mo Li
From DVDs to cloud drive – alternative media and video activism in china.
12:30
–
12:55
Hossein Mohammadzade &
Atefe Najjar Mansoor
On-site only? Non-inclusive nostalgiga for pre-lockdown academia.
13:00
–
13:50
Stephanie Wössner & Chris Binder

KEYNOTE
To boldly go where no (wo)man has gone before: Ensuring survival through future-oriented learning with extended reality and game-based learning.
14:00
–
14:25
Klaus Conrad
How covid helped us understand how education needs to change.
14:30
–
14:55
Alesha Serada
Put on a happy face: creative application of deepfakes in music videos.
15:00
–
15:25
Siti Noraisyah Abd Rahman & Husna Adlyna Sidek
The potential of heritage-centric online game jam. Towards cultural heritage appreciation and preservation amongst youth.
15:30
–
16:25
Kim Harris & Ashley Lytle

KEYNOTE
From the digital divide to digital equity – Redesigning how we think about aging and technology in the wake of Covid 19.
Nick Jushchyshyn
Introducing SIGGRAPH EDU
16:30
–
17:20
Geoffrey Long

KEYNOTE
What if? But THEN what if?: Worldbuilding and futurecasting as personal resiliency tools
POSTER
17:20
Alexander Pfeiffer
The merge of esports and real sport during the first waves of the covid pandemic.
17:30
Michaela Wawra
The influence of the corona pandemic on the players of an international gaming community in World of Warcraft Classic.
17:40
Nanditha Krishna
Restyling and remodelling education: from analogue to digital.
17:50
Stephen Bezzina
DS4AIR
18:00
Massimo Pierruci
Trine TPR
18:10
Thomas Wernbacher
Green eCommerce
18:20
Luke D'Amato
The future of non-fungible-tokens – creating iNFTs.
18:30
Owen Agius
Mobile gait analysis – introducing gaint analysis for more familiar environments.
18:40
Benjamin Joseph Spiteri
Virtual player optimization.
18:50
Matthew D'Amato
Automated game calibration using AI.
19:00
Matteo Sammut
Infinity game. Procedurally generating games via films.
19:10
Liam Bugeja Douglas
Autism App with Maltese text-to-speech.
Accepted for "book contribution without talk":

Rudolf Inderst
Tanja Berger
Vanessa Camilleri
Call:
The corona pandemic has changed the world. Events like lockdowns or mass testing for a disease seemed rather distopian until then. Processes such as telework or distance learning were massively accelerated. The way we spend our free time has changed. But it is not only the corona pandemic that concerns us. Terrorist attacks, wars, environmental catastrophes are aspects that become more and more part of our daily perception and therefore influencing life decisions.
In the 4th edition of the Media Arts and Design Conference we would like to look at Emerging Technologies (Decentralized Networks, Artificial Intelligence, Virtual Worlds – Metaverse, Virtual and Augmented Reality to name a few) and their impact on the field of Media Arts and Design in particular but also on social, political and economic aspects in general. We are also interested in how communication and interaction in private as well as professional life has changed over the last years.
We offer to submit to two different tracks:
Track 1 aims at classical scientific presentations and conference papers. These submissions will be double-blind peer-reviewed and marked as reviewed in the context of the book publication.
Track 2 is more personal. We hope to hear about the personal experiences, ideas and inspiration of the participants. These contributions will be discussed and edited in a cooperative process with the editors as part of the book publication.
Our Poster Session gives the option of virtual project presentations in the form of a poster (5 min sessions). Related papers or personal insights presented as poster are also welcomed to be published in our anthology.
We are looking forward to receiving exciting submissions:
Please send your short abstracts for your talks until 30/11/2022 via e-mail. Please add if you also like to contribute a book chapter.
It is (as already mentioned) also possible to only contribute to the book, without giving a talk. However, the same procedure applies.
alexander.pfeiffer@donau-uni.ac.at
Anthology:
As already said, an important component of the conference is the planned anthology. This is to be published in-house by the University for Continuing Education Krems in Q3 2023. We therefore ask the participating authors to prepare the "ready-for-review submission" by March 15, 2023.
Template / Demo-Abstract (for the talk and/or book):
We expect your abstract to look like the following in length and format:
Title, Author – Affiliation
Is There Life on Mars? Imagined Ecologies in Soviet Sci-Fi Films
Alesha Serada – University of Vaasa
Abstract:

In this paper, I provide a generalised presentation of imagined ecologies of the future in Soviet science fiction films. I rely on the existing analysis of Soviet utopias and science fiction (Banerjee 2018; Kaspe, 2018; Majsova 2020), and complement it with thematic 'close reading' of most representative examples of Soviet films. Namely, I uncover paleontological scientific imagination of Ivan Efremov in the groundbreaking The Planet of Storms (1961), which inspired Stanley Kubrick's 2001: A Space Odyssey, and reconstruct underwater ecology of Amphibian Man (1961). The universally acclaimed Solaris (1972) serves rather as an artistic commentary than an exemplary science fiction film, as it was never a part of mass culture in the same way as mainstream science fiction. I come to the conclusion that the ecological imaginary of Soviet creators was stiffened by their prevailing colonial ambitions, with the only exception of late Soviet Per Aspera ad Astra (1980), which gave agency back to nonhuman living matter without framing it as the Othered menace.

references (if any in abstract)
Banerjee, A. (2018). A Possible Strangeness: Reading Russian Science Fiction on the Page and the Screen. In Russian Science Fiction Literature and Cinema: A Critical Reader (pp. viii–xv).
Kaspe, I. (2018). V sojuze s utopiej. Smyslovye rubezhi pozdnesovetskoj kul'tury. NLO.
Majsova, N. (2020). Soviet Sci-fi Film and Different Modalities of Future Ecosystems. Strelka Mag. https://strelkamag.com/en/article/soviet-sci-fi-film-and-different-modalities-of-future-ecosystems
Serada, A. A. (2021). The Obligatory Underwater Level: Posthuman Genealogy of Amphibian Human in Media. https://osuva.uwasa.fi/handle/10024/13004
Please also add a short bio (a short paragraph) and a link to a photo of yours that we are allowed to print in the book of abstracts.
The conference series was originally launched 2020 by the University for Continuing Education Krems (formerly known as Danube-University Krems), Drexel University and the University of Malta with the support of the MIT Education Arcade, the Texas A&M Live Lab and the Department of Communication Studies at the University of Vaasa.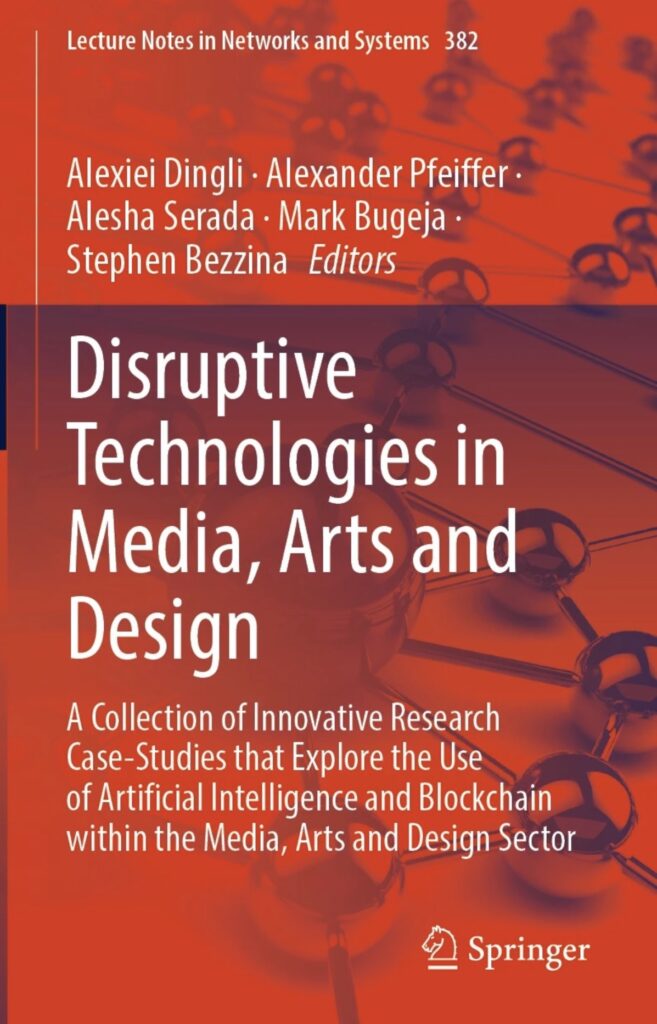 Our latest book: https://link.springer.com/book/10.1007/978-3-030-93780-5